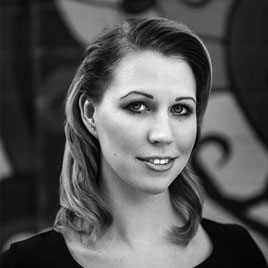 Gina is a vibrant, fresh and fun stylist at Fuss with a drive for creating beautiful and unique styles and colours for her clients. She is well-versed in Rusk cutting and colouring techniques and has a passion for crafting specific colour placement, whether it be with foils or balayage. She has been involved in the creative process for a collection that placed in the finals for the 2013 Contessa Awards, and has assisted in fashion photo shoots for Avenue magazine and the Art Gallery of Alberta's Refinery Party. Gina also takes special care when styling brides and bridal parties to make sure they look their best on their special day.
Gina believes that an individual's hairstyle is a reflection of their personality and she is committed to bringing that personality to life through creative work. Her sweet and calm demeanour will make you feel welcome and at ease.
What We Do
Curious about what we can do a FUSS? Each of our stylists offer a different skill level and price point to ensure we meet your individual needs.