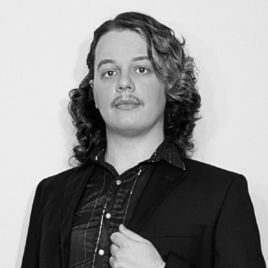 Kyle Birminham is an up-and-coming apprentice stylist at Fuss Art of Hair, where he continually explores his passion for creative expression through hair. With a flair for short, funky haircuts and powerful color placements, Kyle's unique vision brings a refreshing twist to classic styles.
When he's not transforming tresses at the salon, Kyle indulges in his love for fashion, staying up-to-date on the latest trends and incorporating them into his own personal style. His keen eye for detail and vivid imagination enable him to create innovative looks that make a statement.
A devoted fan of the iconic video game Sonic, Kyle's enthusiasm for gaming goes beyond the screen. His appreciation for the game's vibrant colors and dynamic design spills over into his work, inspiring him to craft hair transformations that are nothing short of extraordinary.
Driven by his relentless pursuit of creative excellence, Kyle is constantly refining his skills and expanding his knowledge in the world of hair and fashion. His artistic vision and dedication to his craft make him an invaluable member of the Fuss Art of Hair team and a stylist to watch out for.
What We Do
Curious about what we can do a FUSS? Each of our stylists offer a different skill level and price point to ensure we meet your individual needs.